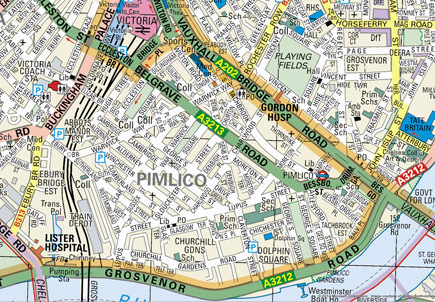 The last couple of weeks have flown! Which for some bits in particular is no bad thing; I wonder if we could fast forward through the next four years too.
I'm all packed up and ready to head off for Pimlico for an exercise in déjà vu that I'm vaguely apprehensive about; as a handful of the long term faithful will recall this was my first properly regular London base and it's (unbelievably) five and a half years since I was last there for any length of time after falling out with my regular pied à terre over a reservation mix up that brought about possibly the most unpleasant accommodation experience I have ever suffered, in London at least. The fateful trips to Edinburgh and Coventry around the same time – related here in ancient posts for anybody who fancies doing a search – remain forever etched in my consciousness whether I like it or not. Brrrrrr.
Hopefully this was nary a blip (plus it was five and half years ago, to be fair) and my return will be as much fun as the glory days before it! I will be keeping company until Saturday morning before heading off at eleven for lunch, a Hidden London tour around London's very first skyscraper at 55 Broadway and if there's time a razz round the big John Lewis at Oxford Circus. The original itinerary included taking in the Abstract Expressionists at the RA but memories of my last Saturday afternoon visit thankfully resurfaced before I booked it; believe me, John Lewis will be the epitome of peace and tranquility by comparison and after a couple of months pottering about at home watching the days get shorter that won't be any bad thing.
Scarborough folks will have to keep their powder dry until next week, but bar a quick 24 hour absence for the Pixies at the start of next month, that's me back and settled until Christmas – the puddings are now made (taking an unexpectedly spicy and maverick turn thanks to my crap eyesight and resulting exuberance with the cloves) and the Oven Pride has very satisfyingly annihalated the black bits from everything inside the cooker as only industrial-scale soaking in big bags of caustic soda can. Mince pies next, and by then it'll be well on the way to putting the tree up and I promise I will have sorted out all the Christmas and New Year working arrangements and more importantly, put them where everyone can see them!
A brief update then, since it's an early start in the morning and Netflix on the Smart TV bed beckons. Fingers crossed for morning sunshine, or at the very least, daylight.
This week's song of the week is really an album of the week entry – the Beastie Boys' Licence to Ill is thirty years old this very month having been released on November 10th 1986, to be specific! I bought mine from Sydney Scarborough in Hull (and whilst I couldn't put my hands on it for a picture thanks to the ever-present decorating chaos I still have it), so to celebrate us all being three decades older here's the very first bit. The fact that even I would sound cool rapping over When The Levee Breaks is entirely by the by.
Paul's Boutique was better I know, but still. Happy days.
More soon, and possibly some hair news…
And another timezone is upon us (sort of) even if my normally peaceful unawareness of this was scuppered by my forgetting to change the clock on the old hifi that serves as an amp for my radio alarm, resulting in my getting woken up at 7am on Sunday morning by Betty Harris. All things considered, it could have been worse.
I've certainly had less welcome things happen over the years on a Sunday morning, but they've generally had the decorum to at least leave it until a sensible hour. There wasn't much that could be done except to fire up Netflix and get on with an epic lie in; a richly deserved one too after the previous weekend's shenanigans at Celluloid Screams in Sheffield which included lots of virtually all of the things I like but not much in the way of sleeping. Films aside, an honourable mention should definitely go to the hotel breakfast buffet and its waffles, provided nobody tells the people at WeightWatchers.

I'm somewhat ashamed to admit to only lasting one film of the Saturday allnighter, but sixteen solid hours of either sitting in or standing outside a cinema in one day even allowing for (and possibly because of) the couple of breaks for punter-time, proved to be a little too much even for me on this occasion bearing in mind that the next onslaught began some three hours after the allnighter finished. Possibly because I managed a far better seat this year than last, I was rarely bothered by the latecomers or anything else and whilst there's always a handful of pedestrian moments the CS programme was as exemplary as ever with enough crossovers from FrightFest and Dead By Dawn I'd already seen to allow for repeat viewings (We Go On, What We Become, Antibirth) or breaks (Devil's Candy, Pet) depending – yay!
As ever given the post-LFF scheduling, lots of shiny new things from the London Film Festival too although Raw, the multi-award winning festival darling hyped beyond all measure turned out to be very nicely made with terrific sound especially (said the deaf cinemagoer) but otherwise uninteresting, to me at least. I'd love to know which bits were supposedly causing people to faint and vomit in the aisles, because on that I'm genuinely baffled; you'd think Canadians would be made of sterner stuff. This years' primo recommendation instead is for The Autopsy Of Jane Doe starring (one of my favourites, and for anybody who hasn't seen Manhunter, why not?) Brian Cox and which also won the audience vote. A lot more fun, even allowing for an ending somebody found in the shed and stuck on with gaffer tape.
Back at the ranch, I won't need to tell any local readers that the temperature has dipped further still, and having been caught in a hailstorm on my way home this very afternoon I will be spending the remainder of the weekend digging out my Nordic clobber for the daily hike to the flat and back – fortunately it's been a busy week and is looking like another! Warmth from all available sources will be gratefully received, and in the meantime I have my trusty cashmere socks to tide me over.
The quest to fully stock the chilly cupboard in the hallway with Christmas food continues apace, its shelves now including chocolate, pretzels, nuts, crackers and Twiglets as well two and a half Christmas cakes – why is nearly all Christmas food brown? Mincemeat was next on the Home Made list and I managed to get through the whole task without picking  (eating the stuff raw is a step too far even for this lifelong suet devotee) or making a mess, and puddings will follow next weekend to coincide with yet more painting of woodwork in the four or five hours of daylight available. Fingers crossed the former will triumph in the Battle Of What The House Will Smell Like.
In the spirit of Halloween earlier in the week, Bonfire Night tonight and the belief that the bandwagon-jumping numpties wandering about dressed up as down-on-his-luck Ronald MacDonalds have moved on to something else, this weeks Song Of The Week comes from the spectacularly daft Insane Clown Posse. Whoop Whoop!
I'm currently working on Christmas and New Year availability both here and for the post-Christmas London trip, and the usual special page will be up in the next couple of weeks. Meanwhile my return to Pimlico proper for the first time in years approaches in ten days time! Maybe it'll be warmer.
Well a couple of weeks later and it's safe to say that the coat is now firmly on! Everything is very pretty assuming you're on the right side of the torrential downpours, which on Monday lunchtime I definitely wasn't; see also my favourite Scarborough tree in the photo, which every year is happy to get it's cards on the table and forge ahead of the rest in brightening the place up a bit (I'm sure there is a sensible botanical reason, but Percy Thrower I am not).
Autumn is always one of those times when everything I do seems to be in preparation for something else that isn't happening for a while, whether it's an impending horror festival, upcoming London trip, Christmas (woohoo!) or just the regular forward planning in the shape of the vague-but-gnawing panic which begins to set in every year around this month, and concerns a theoretical combination of potentially horrific winter weather and accompanying travel problems plus the usual time off for festivities and then tax bill time a month later, resulting in what I can only describe as winter skintness. Every year is the same, and every year these (not entirely irrational) terrors are allayed by buying and storing enough food, shower gel and toilet rolls to last pretty much until Easter, which I can then open the cupboards and look at periodically to bring about immediate calmness. Mostly buying food.
One family tradition I've brought back this week is making the Christmas cake long before everybody else's tradition – Stir Up Sunday became Stir Up Saturday, specifically yesterday rather than the last weekend before Advent which is far too late for me and given the shopping, preparation and clearing up involved when there are far more pressing things to be getting on with (the pudding, for one) a relatively stress free option if still a pretty physical one. Following an afternoon which began with my assembling ingredients and neatly lining tins and ended with my collapsing in an exhausted heap on the settee (not a little pissed too, after alternately sneaking bits of rum-soaked fruit and nipping at the sherry throughout) I now have one big cake and two little cakes (these for pre-Christmas testing, to begin whenever) plus arms that feel as if I whiled away a few hours carrying buckets of coal up and down a hillside.
Sheffield beckons, and the logistics of arranging bookings in the usual way when my phone is going to be off (entirely necessarily, since I'll be sitting in a cinema) the majority of the time has not been lost on me; to this end, I will be taking bookings further in advance than usual and anybody getting their request in in good time will be able to come along for my £20 off Scarborough discount rate – yay! Obvious the phone will be on during the week (and also the Monday before I leave), but it's the only sensible solution for the weekend in as much as anything will be sensible about it, least of all me. Availability is piecemeal as described, but there's wiggle room throughout and it doesn't hurt to ask…
For Song Of The Week we're back to the theme of long-haul baking and the slightly drunk kitchen-dancing which is all part of the process, at least in this house. Despite the Bob Marley reference in the title there is only one answer, and that's a bit of Northern Soul and the Velvelettes – I've deliberately avoided one with an actual video to watch so get the oven on, take up the rugs, and try not to break anything!
More soon – don't forget that's Scarborough until Thursday then next stop, Sheffield!