Or at least it will be in a few hours, and true to form the bank holiday weather is looking unpredictable at best. Hey ho.
It's also a full week (or it will be at around half past twelve) since I got back from Edinburgh and Dead By Dawn, having spent – as I do every year – a supremely lazy and relaxing weekend ensconced happily in my favourite seat at Filmhouse with a big bag of liquorice allsorts plus a leftover Easter egg, my fit only to be worn in dark rooms comfy clothes and a borderline unreasonable amount of between-film noodles thanks to my fondness for hoarding Wagamama takeaway containers. The stand outs this year were all short films, and anybody interested should waste no time in tracking down my favourite, Pickle; not especially horror but very kind and lovely as well as making me laugh so hard I lost electrolytes. Poor Pickle.
Spending quite this much time on the East Coast main line and going from the usual quiet pottering in Scarborough to two capital cities inside a week is a novelty nowadays, despite it not being remotely unusual this time five years or so ago (when three or four different hotels in a week wasn't unknown) and whilst all went without a hiccup, I don't miss it in the slightest. That said, London immediately pre-Easter turned out to be perfect timing with a busy day Thursday allowing me the hoped-for semi skive; I was up with the lark on Good Friday for a stroll upriver to the Tate Britain and David Hockney (as well as the singularly lively light installation by Cerith Wyn Evans and a pot of tea in the members room), then later following an afternoon of entertaining back at the hotel (not least to remind myself why I was there in the first place) a wander down to the Tate Modern for the first time in months where I even got roped into some art outside – yay! TM is open until 10pm on a Friday and worth every moment to the extent that I went back on Saturday morning for some extra Kandinsky and Mark Rothko input, a spot of breakfast and a little nap on the comfy seats overlooking St Paul's in preparation for the brawl that is the Saturday lunchtime Borough Market shop.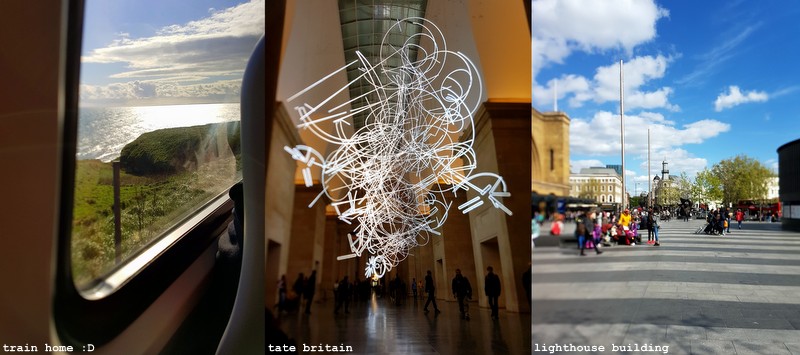 Some sunshine, sausages (plus cheese, olives and a mini bottle of white truffle oil as a treat), one very blue steak and somehow – according to the mysterious step counter on my phone – around twelve kilometres later it was hometime for an Easter weekend of R&R (and a fair bit of C, thanks to the good people at Cadbury's), a couple of days back at work before Edinburgh last weekend and now the Bank Holiday to get caught up at home after a busier than expected week which coincided with the not-terribly-welcome return of winter, complete with hailstorms and minus temperatures, to Scarborough on the exact days when I needed to be up and out of the house early. Thank God I got that boiler replaced.
Still, all seems to have settled down for now and I will be semi-available on Bank Holiday Monday itself for anybody with the manners and common sense to ring and give me reasonable warning; an hour ought to do it! The rest of the week and so far the month will continue in much the same vein and hopefully the sun will stay out at least until the half term holidays – my next London dates have yet to be fixed since the current hotel prices are nothing short of astronomical for every date I've checked, but the Summer Screen films will be announced in the coming weeks and depending on timing and selection, an August return to Covent Garden may well be on the cards as well a provisional Pimlico few days in September thanks to my Sleaford Mods ticket (and inherent laziness, since Brixton is only two stops on the Victoria line). Watch this space…
This week, a pop song! Having grown bored and cross with my usual Spotify playlists after doing them to death during the extra time spent waiting for and sitting on trains, I rummaged about in my back catalogues for some old favourites and came across a few old friends. This one came out a good fifteen years after I'd decided I was going to be Madonna when I grew up – I'd already switched from wanting to be Debbie Harry, Wonder Woman and Sally James from Tiswas, but I think it was Desperately Seeking Susan that decided it. And we've both worn pretty well, I think. In a kind light, anyway.
More soon! Time to find Desperately Seeking Susan on Netflix.
…punctuality.
And hands up who thinks I'm going to moan about punters being late? You're wrong, although the prat who called to announce himself and ask for final directions some eight minutes after his half hour booking should have started (and therefore roughly ten minutes after I was expecting him to call and announce himself) was politely directed home after not even acknowledging his lateness, let alone apologising. Even the tiniest sign of contrition would have made a difference, although nothing like as much difference as texting me to let me know he was behind schedule so I could have waited.
No, my ever-increasing punctuality problem is with punters arriving early. Well, not the early arrival as such – you can turn up at whatever time you like – but the inexplicable urge to call me and inform me of it even though I'm a good fifteen minutes from being ready and trying to have a sit down and some lunch. Or talk to my friend on Skype, dry my hair, watch Netflix, do some yoga, put the washing in the machine, answer my emails or any one of the myriad other things I might be doing in my free time.
The moment the phone goes (and if you're the next person due I'll answer it, just in case you're running late or something's happened), I have to stop whatever I'm doing and give the caller my full attention because that is part of my job. Being then given the news that you're here despite not being due for another ten minutes or more means that I have to continue doing this (even though I'm perfectly on schedule) because I can no longer carry on doing anything else; I'm hardly going to be able to relax and enjoy my peanut butter toastie knowing that you're hanging around out front, shuffling up and down and occasionally looking at your watch?
When I explain how to get here, I will tell you that my flat is no more than a minutes' walk away from the place where you'll be calling me for final directions, and this is true – I have no reason to make it up or anything else which might disrupt my workflow; why would I? If I'm in a hotel then it's fairly obvious that when you call from outside it, you're nearly here and certainly not twenty minutes from my room no matter how big the place is.
I respect your time – please respect mine. And for those reading who think I'm an irritable, nitpicky snowflake who should be thankful for whatever I get and that being expected to drop everything in a heartbeat whether I like it or not by people who can't or choose not to grasp how an appointment system works should be a small price to pay, I offer
Rant over and Lord, that feels better. Now it's a new (tax) year and the sun is shining, the annual onslaught of sneaky bank holidays is creeping up and Easter is just around the corner! As most will have spotted already it's London for the latter half of the week and then home for the long weekend of lamb, chocolate eggs, and hopefully some time out in the fresh air along with who knows how many others if the number of bodies on the beach yesterday is anything to go by. Packing and preparation for both Waterloo and Edinburgh next week is pretty much sorted and I even found time to go and see the ROH Madama Butterfly being streamed over at the Stephen Joseph on the way home last week as well as getting a big dent made in the decorating (at the flat, for a change).
For Scarborough folks, I'll be around for the next couple of days as usual then back at work Tuesday week; I'm also planning some down time while I'm away to finally check out the Lego shop in Leicester Square, see the David Hockney exhibition at the Tate before it closes and run over to Ginger Pig for sausages, amongst other things. In my infinite (ha) wisdom when block booking hotels back on November's Black Friday weekend I hadn't noticed that Good Friday was during my stay, so armed with the knowledge that bank holidays can go either way business-wise I may yet have an excellent excuse for a skive. With that in mind, anybody contemplating booking Friday after lunchtime-ish might do well to declare their interest early or by the time you call I'll be sitting on the Tate boat with a flapjack, a can of Irn Bru and a switched off phone.
For Song Of The Week I'm continuing my noble quest to get everybody to watch Detectorists in the hope that some day I might come across somebody else who's seen my favourite TV programme before the third series starts later in the year. So, here is the lovely theme song (alongside a few bits from the first episode where nothing much happens, not that anything much happens in any of the episodes. Trust me, its fantastic).
Mercifully, the third series of my other favourite TV programme starts on Netflix this Tuesday morning, 7am sharp. I'll be there, albeit in a horizontal capacity since my bedroom smart TV negates the requirement to be perpendicular. Thank God for hollow wall anchors.
More soon…
And the month has flown again, even without the help of the clocks going forward at the weekend (and true to form I forgot to change my old radio-alarm one until it was far too late and didn't get up on Sunday until it was past 11 o'clock and thankfully, almost lunchtime). Twice this week I've left for home at gone 7pm and it's been at least lightish – happy days!
Not masses to report from HQ; decorating (home and flat) continues as much as the rather-less-quiet-than-usual of March has allowed and I'll be cracking on with some more new pictures as soon as I can be sure I've got all the paint off – yay! Inbetween the day to day pottering about I've had an unexpected trip to the Spa Theatre to see the ever-disarming (and very funny) Ross Noble – who I last ran into at FrightFest back in 2012, I think – courtesy of a kindly and equally disarming visitor (I not only got a night out but also an excuse for a ride on the cliff lift) the accounts are nearly done, London beckons shortly and relative peace with proper tea, home made brownies (pic above, recipe available) and muchas binge watching of ER will be the order of the day in the meantime.
The bustle of Waterloo will be more than enough to wake me up after the relative sedateness of Pimlico, plus this time I will be about until the usual late morning and thankfully without the dawn dash home, even if it did afford me another lovely picture of the recently-tarted-up Scala before my train. It's always good to be back on the South Bank although I'll be hopefully better prepared than last time (example Amazon Fire box: check, HDMI cable: check, remote control: oops). I may have to start making better lists.
Easter will be upon us before we know it, and despite my being away for the first half I will be back for business as usual the following week before heading off to Edinburgh for Dead By Dawn on the 20th – my first horror festival of the year and my enduring favourite despite the sometimes inclement weather and necessary four days of living on Meal Deals, bananas and the annual first night trip to the Nando's over the road for peri peri chicken and iffy sangria. I say it every year, but it's well worth remembering that the traffic into Scarborough is worse during Easter week than any other time I know (possibly since I'm always at FrightFest over the August Bank Holiday weekend) so appropriate forward planning is the order of the day. Not even thinking about it and getting the train would be my advice.
Back to this week and next, and business as usual! And at risk of being trite, I should really say thank you to everybody who's been kind and encouraging about my phone photos as well as the bringers of lovely things like eggs, show tickets, a bit of wood (which I really needed, believe it or not) and obviously their hard earned. It more than makes up for the phone-numpties who all seem to be coming out of hibernation this last week, but at least when they're interspersed with nice sensible folk they're entertaining rather than anything worse and for the rest I have a call blocker.
Song of the week hails from my current favourite soundtrack as well as an old favourite album (plus it was co-written by David Bowie which is as close to this segment as he's ever likely to get, since pretty much everything he's ever done would qualify and renders cherrypicking impossible) and deserves turning up very loud; possibly not in Tesco, where multiple people have witnessed me bouncing up and down the chilled section in my giant wireless headphones to it while waiting my turn to examine the spoils on the Reduced To Clear shelf. Choose life. Choose a job. Choose a fucking big remix.