It's October!
Well, just. Virtually every seasonal autumn milestone has slid by at some point this last week; the heating has been on, piles of rustly leaves have been kicked when no one was probably looking and I've turned back home to put a coat on twice after setting off for the flat and feeling a pretty insistent nip in the air. The other and unrelated milestone of the week – and see title – is that it's now two whole years since I finally got the keys to the flat – I don't know where the time goes! One day it might even be finished, although not before HQ which is getting yet another a lick of paint in yet another room over the weekend in the effort to have it all done for Christmas. At least there's now only one floor missing, and almost no iffy wiring.
This – amongst other things – means that at least a handful of the people reading this I've known for far longer than I'd thought – everybody's settled in frighteningly comfortably and the ease with which I've dumped the hotel-train station-airport-hotel-another hotel-train-home for a week (book more trains and hotels)-rinse and repeat routine of the previous few years has surprised even me, even though I was (demonstrably, as anybody who called and caught me at an off moment on the last few trips to Random City #137 will know) completely, totally and miserably sick of it. Long may the Scarborough morning stroll to work with the packed lunch (and especially the return home each day to eat Snack-A-Jacks, watch Mubi and sleep peacefully in a bed whose occupant history I can account for in it's entirety) continue.
After all the ranting, the next few trips are hurtling into the foreground apace with Sheffield and Celluloid Screams only three weeks away! Two days, one evening and one full night beckon at one of my favourite cinemas and in one of my favourite cities; the all nighter (unmissable for somebody who came of age in the 1980's when it kicks off with An American Werewolf In London and follows that with The Lost Boys and Teen Wolf) will make availability on the Sunday patchy at the very least (and probably ill-advised for punters to whom it's important that their puntee remains awake, which certainly isn't all of them in my experience) but there's the odd gap, plus the Friday afternoon and then ALL DAY on the Monday before I head for home – yay! See, it's fun when you were going there anyhow.
London follows a month or so later, and what will be the first trip in two and a half months (since I can't really count the fun-but-batshit-crazy afternoon shenanigans of last week) is looking likely to be something of an exercise in nostalgia. Proper information will follow when I know it myself, but there's a clue in the picture and as well as the usual fun and games, a tour around 55 Broadway on the itinerary – woohoo! This will be my last visit before Christmas and without wanting to get too far ahead of ourselves, I can confirm that this years plan will mirror last years in the days immediately after it, although we'll hopefully be able to give the torrential rain and subsequent flooding a swerve this time round.
Back to local news and following the sad demise of my old cylinder vacuum (which I can only think got irreversibly peeved at having to pick up more and finer dust than any machine could reasonably be expected to, the time I sanded the artex bathroom walls being the chief suspect) we have an unexpected addition to the household! Henry Hoover, with whom I'm slightly besotted after he demonstrated impressive enough pulling power on a wood floor to make me fear for the nails, although he doesn't corner terribly well and falls over occasionally (a trait with which I sympathise given that it's one I share, thanks to my crap hearing and resultant dodgy balance). Welcome, Henry.
And for song of the week, more 80's nostalgia to celebrate both my hard won Pixies ticket, and release of Head Carrier this week. I can't claim to remember watching this on TV (I would not have forgotten that Fall T-shirt), but if they look this young I can't imagine what sixteen year old me must have looked like when I went out to buy Doolittle all those years ago. A proper state, more than likely.
More soon!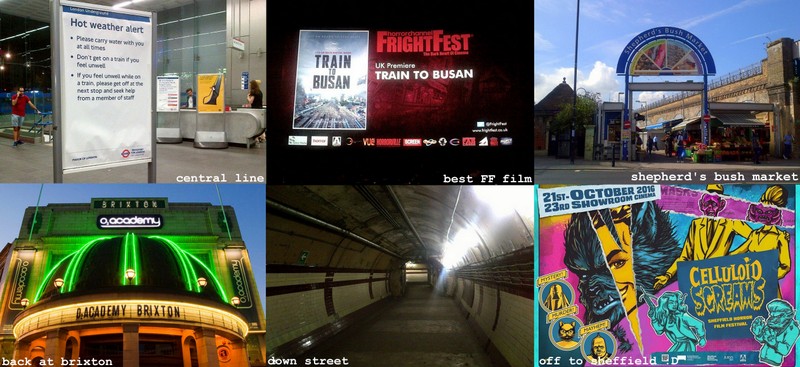 …and not only are the nights drawing in (curtains shut at seven pm tonight) but it's starting to feel decidedly backend-ish outside!
This is in sharp contrast to temperatures on the Central Line a couple of weeks ago which were comparable to that of the earth's core on my arrival for FrightFest's opening night at least. Not being the warm weather type I decided on a change of tack in the morning and switched to the hitherto unfamiliar Hammersmith & City Line which (being pink) had always appealed anyway and which I've never previously had any reason to bother with. And Shepherd's Bush Market is a lot nicer than Westfield.
Five days, twenty six films on and far too much coffee and junk food later it was all over and back to the real world with no Korean train zombies (seriously, everybody needs to see Train To Busan) and a couple of days rejoining the living in my usual Waterloo stop off after that, home – yay! And on with planning the next lot of charging about – I'm currently feeling particularly jubilant after finally securing a ticket to see my all time favourite band (if I had to pick one) the Pixies, at my all time favourite music venue (if I had to pick one), Brixton Academy in December. And plenty of fun and games before that.
Whilst Manchester's Grimmfest is not on the itinerary this year thanks in part to my having either seen or deliberately avoided most of the films at FF (but mostly to the total lack of phone-policing; a Diwali theme and cinemagoing don't mix) I can confirm a mini-trip to Sheffield for the small-but-mighty Celluloid Screams in October; the hotel and travel is booked, the pass bought and the shiny, just-announced programme scrutinised for chunks of free time where a spot of in-room entertaining may take place (in other words, I can get my whore drawers on and rustle up some food and beer money while the stuff I've seen already is played). Job done.
The Celluloid Screams programme brings Northern folk an early chance to catch some of the best horror stuff from the London Film Festival and – like my Scottish go-to Dead By Dawn – always inexplicably carries one jaw-droppingly terrible offering to make the remainder shine even brighter; the trick is to spot it in advance which is easier said than done when it's the Secret Film and not revealed until it starts. Such was the situation surrounding by far the worst film I saw last year, Darling – a pretentious incomprehensible mess that made the previous 2015 front runner Cherry Tree look like The Shining. The politest review-speak description would be 'polarising' (a handful of people not on the maker's A Level Film Studies course rate it as groundbreaking and genre-pushing, everybody else thinks it's shit). A less polite one would be shit. And anybody who wants to check it out can do so at this years' Grimmfest.
Thankfully, this years CS schedule looks suitably fab, in the meantime (as a good few have already noticed) I will be back in London for a couple of days next week, and bar that it's Scarborough for the foreseeable – woohoo! Up to date availability info is always on the front page, for those who keep missing it – further ahead is overleaf. The kids are back at school, the traffic's normal again and we have our beach back for a few months…
This week's song of the week may be predictable but my record collection would be a pretty sorry sight without Prince Buster, who passed away last week at 78. May he rest in peace, and always enjoy himself.
More soon!
Hello from Scarborough! Until the morning, anyway.
As most will know it's been a flying visit and unpack-do laundry-repack situation after spending a lovely and very lazy time in tourist central last week. Possibly the most effort-free part of London in which I've ever worked given that everything anybody could really need was pretty much right outside the door, at least food of every description plus bank and bus stops which, being a simple soul, was plenty for me.
For those who (like me) haven't spent a lot of time there, on the Strand there are also red phone boxes everywhere which was surprisingly festive and cheered me up no end after a nightmarish eight-hour-and-four-train trek to get there at all – I definitely spoke too soon in Previous Blog, and for fear of jinxing myself twice I will offer no comment about any ensuing travel arrangements, possibly ever again. Incidentally, apologies to anybody who got the bollocks about being fully booked all afternoon, but trying to explain why despite leaving the house at 8am I was still two hours away at half past one got old as quickly as you might expect.
I made up for it with a very pleasant evening stroll over to St Paul's and the new Tate Modern to see the Georgia O'Keefe exhibition (and see above), a rummage round the London Transport Museum (since it was barely five minutes walk away) and with Jackie Brown, Funny Face and the still-wonderful-at-twenty Trainspotting at Summer Screen. SS is over for another year, and the courtyard at Somerset House remains my favourite place to watch a film (in the absence of anywhere else I can do so lying under the stars with blankets, Pringles and a big flask of tea) but a new venue awaits from tomorrow night in the form of the Vue at Shepherds Bush, where by this time I will be awaiting the final film of FrightFest's opening night, probably drinking beer and idly wondering where the night bus stop is – woohoo!
Needless to say my phone will not only be off but I won't have it with me, so anybody keen to catch up in Waterloo will need to either email, or keep their powder dry until Tuesday morning when I will be (hopefully) rested, on sparkling form as befits anybody who has spent a weekend watching on-screen carnage of every conceivable permutation (including That New Korean One which a couple of folk have asked me about already), eating out three times a day and not having to do any housework or laundry for ages. And people wonder why I go to these things.
There's a good chance of some morning availability before I set off on the less-than-arduous shlep from one air-conditioned room at Kings Cross to (mercifully) another at Waterloo, but that's a secret. I'll also be unapologetic about skiving for a couple of hours on the Wednesday afternoon to once again put on a hi-vis (and this time a hard hat, I think) to poke about in the dark under Green Park in Down Street station, which sheltered Winston Churchill through a fair bit of the Blitz and which most only get to see a glimpse of nowadays when their Piccadilly Line train rattles through it. Yay!
So on with the last bits of packing and fridge-tidying; a proper update (with proper photos) will be on it's way soon, but trying to type on a tablet (especially for an unreformed BlackBerry person, as anybody who has met me will know) is terrible and I need to go to bed.
Meanwhile, and apropos of nothing in particular apart from that I found myself doing some varnishing to it the other day, let's all watch the Beastie Boys Sabotage video! Back in Scarborough on Friday 3rd…
More soon. Including photo news – promise!