And the return to normality continues apace!
I did have the chance to catch up on some domesticity last weekend when some of my Saturday plans were unexpectedly cancelled; the plans to wash my hair and finish off the honey cake went ahead without incident and I not only got a fresh set of listings on eBay sorted but another cake too, thanks to half a bag of desiccated coconut of indeterminate age I found at the back of the baking cupboard.
I also crowbarred in a trip to the Natural History Museum to scope out camping spots, a film afterwards (Copshop – pedestrian) and a trip to the big Sainsbury's in Pimlico to get the shopping done; it was a good day! Things are finally cooling off towards tights and boots weather thankfully – fingers crossed that coats will be next, and my giant scarf – so giant that I didn't have the time to finish knitting it before the weather turned last Spring – is almost complete in preparation. My many trips to Cineworld have all required an Arctic get up irrespective of the outdoor temperature thanks to their previously-mentioned robust aircon and free spirited attitude to energy usage, and I will enjoy not having to carry it all there and back with me like a bloody nomad or risk fainting from heatstroke on the underground. Tonight's 4K restoration of A Clockwork Orange was no exception, and I was thankful to have packed my woolly hat.
This week is shaping up to be a lively one; in other underground news the latest bit of the Northern Line is now open as of this morning and I was up early with a full compliment of fellow train nerds to go for a ride over to Battersea Power Station via Kennington and through the also-new Nine Elms – yay! The new BPS tube station apparently has sixty two roundels which I didn't have time to count before heading back (although here is one!), but one day I will. It's good to have goals.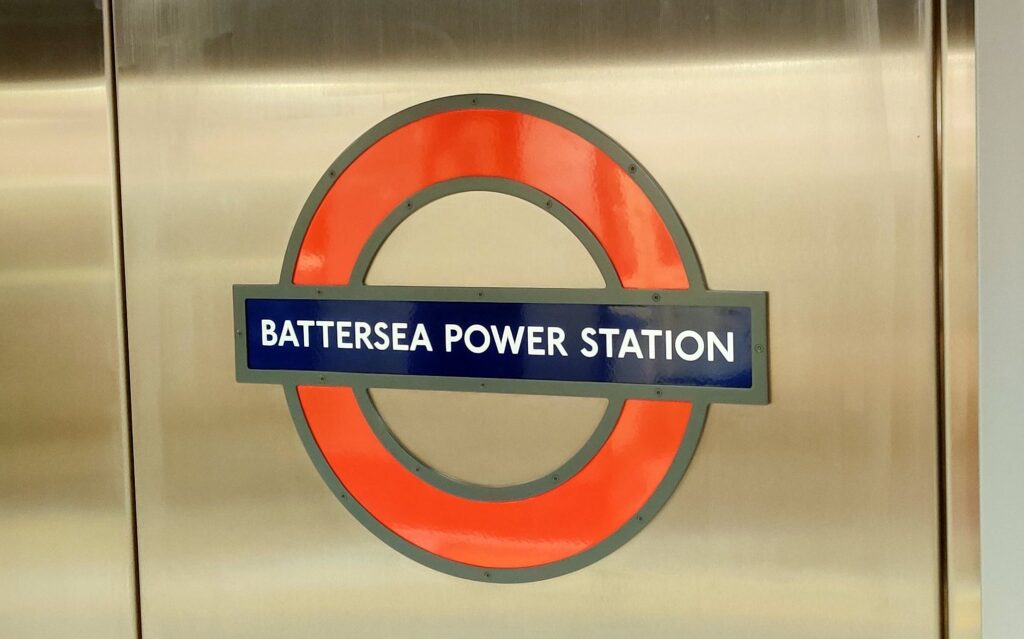 The approach of October means the London Film Festival, and all looks to be back on track after last years' limited offering. Definitely back on track was the ticketing system, which cost me a full hour and a half of my life just to book a dozen cinema tickets after the predictable (and annual) meltdown of the website following a month or so of regular 'reminder' emails about when the tickets would be available to buy; at least one of us remembered! I did manage to secure a ticket for the Saturday night gala screening of Titane – this years' Palme D'Or winner at Cannes – at the Royal Festival Hall, so given that this is a red carpet situation I will be certain to wear my very nicest and shiniest Doc Martens.
LFF runs from the 6th to the 17th of October and I will update availability nearer the time, but most of my tickets are for early to mid evening at times when I would normally be in one cinema or another anyway and won't have a big effect on anything. What might is the midnight screening of the new Bond film next week (but I'll jump that one when I get to it), and what definitely will is my trip to see the Sopranos prequel on Wednesday afternoon, when I will be off grid from lunchtime onwards – I'll make up for it next week.
Back to the dinosaurs for Song Of The Week! Maybe not a solid gold classic, but hopefully it might generate a bit of luck that will magically return the blue stuffed triceratops I shlepped all the way to South Kensington to buy to the Natural History Museum shops's stocklist. Fingers crossed.
More soon! It's going to be a good week.
…and happy Rosh Hashanah to all, but especially to the lovely lady who fed me honey cake and told me all about it.
It's been another busy week! As we can see above, immediately after posting new and representative pictures I (apropos of nothing in particular) decided to highlight my own hair, a considerable saving even with the kit and with a reasonable degree of success considering I can barely even spell balayage. I'm very happy with the (admittedly slightly crisp) result – for a first attempt anyway – and hopefully it will brighten up the autumn days please some autumn days a bit. Tights, boots and my new tartan skirt here we come, at least after this week which according to the forecast will be heading back the other way. Thank God for the aircon.
Planning has continued apace now that fun is back to being allowed outside my flat as well as in it, starting with yoga at the Ministry Of Sound in a couple of weeks, a trip to the museums next weekend and the requisite cinemagoing including a Raid 1 & 2 double feature on Friday evening – yay! My first 10K in a while in the form of a nearby Race For Life is coming up too, which means I will be getting my running shoes back on in earnest – it's been far too long, and I have no doubt that my back will remind me of exactly how long without any hesitation at all.
I'm also booked in for ballet at Covent Garden for Christmas, Cole Porter at the Barbican plus Grayson Perry on the South Bank in October and a chance to dust off my cargo pants and gazelles they are not dusty and get my space buns on for the Ministry Of Sound's 30th Anniversary at the O2 in November. Plus most exciting of all, a chance for a lengthy nerd-out at the Natural History Museums's Dino Snores For Grown Ups overnighter – long planned and now happily reinstated (and booked immediately alongside the aforementioned fact-finding mission next weekend when I will choose a camping spot).
This last also led to a rummage in the loft for a sleeping bag where I discovered a box of vinyl records I'd given up hope of ever finding and decided I must have sold (along with a lot of my other vinyl records back in the day, on the basis that even in 1991 people didn't eat black plastic) and a happy evening poking about among my Iron Maiden picture discs and Beastie Boys 12″ singles to name a couple of fab finds. Time will be set aside for a proper look through as soon as I have any – and I did find my sleeping bag!
All of the above mean that over the coming few months I'll be here on more Saturdays (including the upcoming one) and details will be added overleaf; in the meantime visitors here won't notice much (the slight Pringle-related growth as seen in the photos is on and off). Weekdays are as advertised, for now at least, and yes I am at Monument *please stop asking me where I am and other stupid questions, unless you actively enjoy seriously stupid answers*.
More special occasions over the weekend; Beyoncé and I now share more than an acute accent, since as of last Saturday we are now both in our fifth decade on the planet – yay! Happy 40th birthday, and whilst I won't be joining in the energetic dancing in high heels any time soon, I will stand tall and proud in my favourite Isabel Marant wedge heel trainers, which render me a positively statuesque five foot five and make me feel a bit like a giraffe.
Nobody is more fabulous than Beyoncé. That's just maths.
As above, I'll be here all week, but for now it's back to work, crispy hair included.
More soon!
Hello from Leicester Square! You'll be reassured to know that Leicester Square on the August Bank Holiday weekend is gratifyingly normal – busy, smelly and very noisy (currently the fire-and-brimstone preacher outside the casino is in full swing competing with the buskers on the corner while the nice quiet Muslim guys hand out free Qu'rans and chat to everybody), and that's from somebody who frequented many punk gigs once upon a time. The giant inflatable Suicide Squad starfish has gone, though.
For the last few months generally and the last few weeks especially, going out and doing things rather than sitting about the flat thinking about doing things has been the order of the day and writing about both has taken a backseat as a result; I'm currently on the final day of FrightFest (recommendations from the weekend and many others on request ***Riders Of Justice***) and everything is very much back to business as usual, or at least it will be from tomorrow when I've had a full nights' sleep, knocked the Irn-Bru-and-TUC-sandwich-biscuit diet adopted over the weekend in order to cram the films in on the head and look less like shit (and see above).
The City is filling up again, new places are moving in to replace the gone-but-not-forgotten (small café at the top of my street, sadly no more; Doughnut Time two minutes away on Fenchurch St – woohoo!) and best of all the Prince Charles Cinema is booking all nighters, marathons and double bills at full capacity with a vengeance. So I've had a bit of a holiday – the reopening of galleries and cinemas is at least partly to blame (and certainly my new Cineworld Unlimited card, which has allowed me to wander in and out of what was the Empire practically at will for the last three months or thereabouts), as has been the pleasant weather and more obviously, the gradual increase in visitors now folks are starting to wander back into town – yay!
I promised myself I wouldn't leave it more than six months, and whilst a hiatus in the form of a complete break from all work-related stuff bar the bookings themselves (necessary given the rent and bills, plus like most people I got a several-month break from bookings last year whether I wanted one or not) has been lovely, it's time to settle back down into the routine things. Alongside the brand new pictures (finally!) and a bit of a general tidy up, that includes the – slightly neglected, but definitely not forgotten – blog. I am (equally definitely0 back.
The vigilant will have spotted a minor availability change; I am now otherwise engaged volunteering one day a week until mid afternoon out at Poplar (so not far away) and thus not availabile in either the morning or over lunchtime. This is currently Mondays (and anybody who has ever tried to speak to me first thing on a Monday morning will be under no illusion that parcelling me off somewhere else for a few hours to acclimatise is a very good idea) but possibly switching to Fridays. You'll know when I know, although anybody who habitually books after 2-3pm is unlikely to notice a thing one way or the other, to be honest.
Also back (and in the spirit of both the FrightFest weekend and Ministry Of Sound 30th Anniversary) is Song Of The Week – yay! No better time for a kitchen disco than a Bank Holiday, and a weapons grade classic that has seen me get my dancing trousers on many a time despite being twenty six years old now! Was it really that long ago?
The Ministry of Sound 30th Anniversary party starts onsite on Saturday 17th September and continues at the O2 on November, but more of that later. Three more films to go and I can get some sleep…
More soon!