It's December already! I know this partly because of my many advent calendars, but even without the daily excitement from Fortnum & Mason, Space NK and Bonne Maman, the weather has provided ample guidance.
Despite (or perhaps because of) the encroaching gloom, the last few weeks have been as busy as ever, with barely a moment to spare between orchestral clubbing at the O2 with Ministry of Sound, the obligatory cinema trip or two (the Raid/Raid 2 double bill with Gareth Evans attending to answer questions being a particular highlight) and my new favourite thing to do on a Saturday night, camping at the Natural History Museum.
For anybody who wasn't already aware, adults can pay to arrive in the evening with sleeping bags, pillows (stuffed triceratops optional), and their toothbrush, and settle in for the night with a three course dinner, biology/dinosaur themed talks from experts, films, a spot of handicrafts – I was and am very proud of my new dinosaur friend and his pipe cleaner scarf – and not least, the run of the museum for the entire night. I had a blissfully quiet wander around the (usually mobbed) Wildlife Photographer of the Year exhibition at 1am with half a dozen or so others to wind up before taking to my sleeping bag around 3am when the main lights go out. I did brush my teeth.
A full breakfast and a trip to the museum shop for a sparkly dodo to go on the Christmas tree later, I was on my way back across town in minus temperatures to spend the rest of my Sunday in bed. I cannot recommend Dino Snores enough, and given that the NHM's Silent Discos are back too, I suspect I will be spending more time over at South Ken than I ever thought I would after my one attempt at actually working there (in 2009, I think) ended after a day and a half with my bogging off back to civilisation in a huff, or more specifically my favourite hotel in Waterloo where the punters – whilst not perfect – generally managed to conduct their bookings without whining, sulking or patronising me to within an inch of my life. The Invisible Line Of Cuntery is drawn somewhere between Pimlico and Sloane Square, I think.
I also had a semi-unexpected trip down to Brighton to see Pete Tong when the opportunity arose last week; Mr Tong has visited most of us in spirit on plenty of unwelcome occasions I'm sure, but I wasn't going to turn down another chance for a spot of Ibiza nostalgia even if it did mean a bit of a train ride. Brighton is now the furthest south I have ever been in the UK (which means that it's Burger King is also the most southerly place I have ever had their lovely crispy chips, although with it being five or so years since I last had Burger King, the location was not foremost in my mind at the time), and I will be back.
As of this next week (and as we can hopefully see from the fairly hastily cobbled together Christmas page overleaf), things will be settling down a bit and whilst a fair few evenings are still taken up with the usual Christmas films and so on, I will be here until the evening of the 22nd and keeping as much availability as possible including a fair chunk of Saturday 18th – yay! After a bit of a break I will be back (albeit in a limited capacity) just before New Year and then again just after before everything returns to business as usual a week or so after that. I will be also taking bookings slightly further ahead than usual (from previous visitors, that is), for those who like to plan – for clarity this means a week or so at most.
Back to the music and not just a solid gold kitchen disco classic for Song Of The Week, but the original video featuring the peerless Darryl Pandy and his fabulous mullet too! A very happy man.
I will endeavour to get another update in before Christmas, but in the meantime I will be well wrapped up and looking forward to the celebrating – Christmas tree is next on the list! There will be plenty of goodwill to all men on offer too, needless to say.
More soon!
Well when I started this post the London Film Festival was in full swing, and whilst I'd forgotten how exhausting charging around between myriad cinemas daily while trying to eat, sleep and earn a living can be, I thoroughly enjoyed every minute and even managed to get a bit of red carpet action in not once, but twice!
I will point out that the picture above was taken at half past one on a Saturday afternoon before Ron's Gone Wrong (which is lovely), hence the Converse – I would not and did not turn out to the Saturday night gala (Titane – pretentious try-hard cobblers) in anything other than my trusty Doc Martens (and vintage Jean Paul Gaultier, it being the first opportunity to enjoy wearing impractical clothing for a very long time). I also found time to crowbar the new Bond film in after two false starts (and in the 4DX screen too thanks to my trusty Unlimited card) and was surprised to find it was great fun (and I speak as somebody who hasn't seen a Bond film in the cinema since Roger Moore was in them – Octopussy, I think).
A month or so on and once again, the available time for writing about things to see, places to go and new and exciting activities to do has been well and truly taken up by doing them – the last couple of weeks alone have seen me apple picking in sunny (and unexpectedly flat – I have never been anywhere so flat) Essex with the Felix Project, some Halloween horror at the Prince Charles, a cosy evening with Grayson Perry (also of Essex, at least originally) back at the Royal Festival Hall and getting some showtunes in with Anything Goes at the Barbican before the run ended as well as taking on a few extra projects at home, not least starting the Christmas plans in earnest! Details will follow asap – there wasn't a great deal of value in putting up the usual Christmas availability page last year, but it will be back very soon, and dates/times are being finalised almost as I type.
The (rental) tree and main food shopping are ordered, fancy advent calendars are on the way, and several Christmas films plus a carol service are booked; I can now pretty much forget about the whole thing for a good few weeks and enjoy the last of the dwindling days where the sun is out for more than twenty minutes (fingers crossed). Availability is back to usual after being a bit thin last week, and I also have two Saturdays coming up, for those who find weekdays a bit of a challenge!
This coming week sees the Ministry Of Sound 30th Anniversary at the O2 (which starts early in the evening and finishes before I remember the MoS opening on a Saturday night the last time I was in it, but then I suspect I'm no different to other attendees in being of an age where we like to be home, kettle on and away to bed at a sensible hour nowadays) complete with orchestra – given that I also have a ticket to see Maximum Overdrive at the PCC, it's going to be a nostalgia-fest of a weekend. So I will be digging out the Gazelles (but not the Wonderbra, partly because I no longer own one and mostly because even thirty years ago they were no use for anything except stashing one's gear in the pockets where the bra pads went) and setting off for Greenwich in good time, but not so early I can't accommodate a visitor or two prior! Not too early, though. I'm going out later on.
Time to calm down a bit for Song of the Week while continuing the dancing theme and also the bizarre film one, given the extremely odd video accompaniment. A Kitchen Disco favourite from the Baking To The Oldies section of the playlist (mixing bowl is optional).
More soon – proper Masterchef is back tonight, and I need to get the tea on. Life in the fast lane, as ever.
And the return to normality continues apace!
I did have the chance to catch up on some domesticity last weekend when some of my Saturday plans were unexpectedly cancelled; the plans to wash my hair and finish off the honey cake went ahead without incident and I not only got a fresh set of listings on eBay sorted but another cake too, thanks to half a bag of desiccated coconut of indeterminate age I found at the back of the baking cupboard.
I also crowbarred in a trip to the Natural History Museum to scope out camping spots, a film afterwards (Copshop – pedestrian) and a trip to the big Sainsbury's in Pimlico to get the shopping done; it was a good day! Things are finally cooling off towards tights and boots weather thankfully – fingers crossed that coats will be next, and my giant scarf – so giant that I didn't have the time to finish knitting it before the weather turned last Spring – is almost complete in preparation. My many trips to Cineworld have all required an Arctic get up irrespective of the outdoor temperature thanks to their previously-mentioned robust aircon and free spirited attitude to energy usage, and I will enjoy not having to carry it all there and back with me like a bloody nomad or risk fainting from heatstroke on the underground. Tonight's 4K restoration of A Clockwork Orange was no exception, and I was thankful to have packed my woolly hat.
This week is shaping up to be a lively one; in other underground news the latest bit of the Northern Line is now open as of this morning and I was up early with a full compliment of fellow train nerds to go for a ride over to Battersea Power Station via Kennington and through the also-new Nine Elms – yay! The new BPS tube station apparently has sixty two roundels which I didn't have time to count before heading back (although here is one!), but one day I will. It's good to have goals.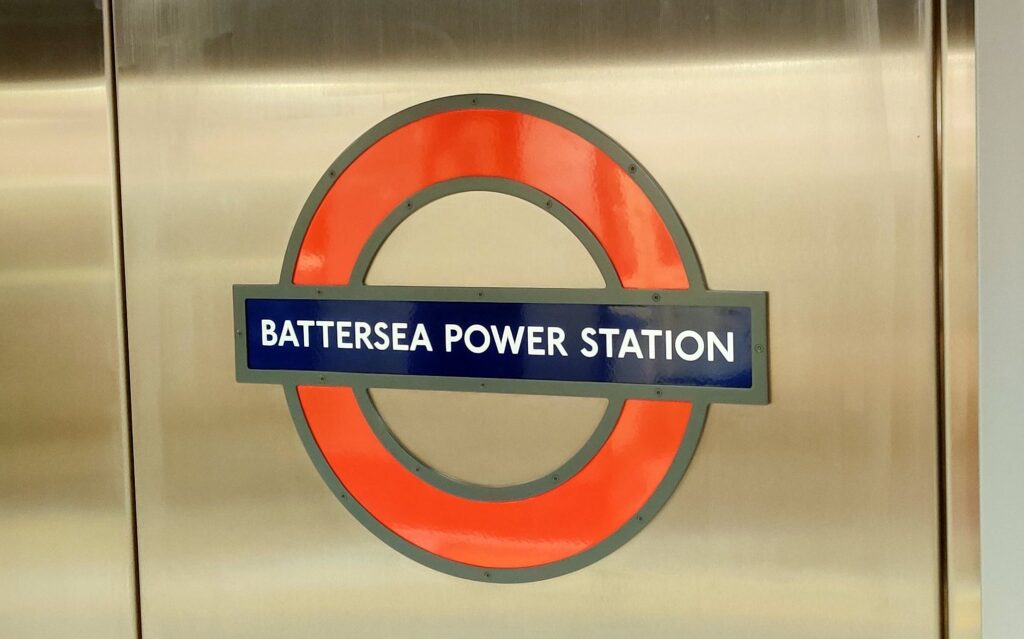 The approach of October means the London Film Festival, and all looks to be back on track after last years' limited offering. Definitely back on track was the ticketing system, which cost me a full hour and a half of my life just to book a dozen cinema tickets after the predictable (and annual) meltdown of the website following a month or so of regular 'reminder' emails about when the tickets would be available to buy; at least one of us remembered! I did manage to secure a ticket for the Saturday night gala screening of Titane – this years' Palme D'Or winner at Cannes – at the Royal Festival Hall, so given that this is a red carpet situation I will be certain to wear my very nicest and shiniest Doc Martens.
LFF runs from the 6th to the 17th of October and I will update availability nearer the time, but most of my tickets are for early to mid evening at times when I would normally be in one cinema or another anyway and won't have a big effect on anything. What might is the midnight screening of the new Bond film next week (but I'll jump that one when I get to it), and what definitely will is my trip to see the Sopranos prequel on Wednesday afternoon, when I will be off grid from lunchtime onwards – I'll make up for it next week.
Back to the dinosaurs for Song Of The Week! Maybe not a solid gold classic, but hopefully it might generate a bit of luck that will magically return the blue stuffed triceratops I shlepped all the way to South Kensington to buy to the Natural History Museum shops's stocklist. Fingers crossed.
More soon! It's going to be a good week.