By amy ~ June 10th, 2011 @ 10:46 pm
And as another week draws to a close, firstly I must proudly report that the Race for Life Grand Total is – ta da – £670, which considering that it has virtually all come from generous ladies and punters is (not to put too fine a point on it) bloody amazing. Thank you to EVERYBODY who has sponsored me – this last week's special offer managed to put an extra £100 on the total and I will be sending in our cash with pride first thing on Monday morning – yay!
Needless to say, the week has been a lively one, but the opportunity for a bit of a change of scene came in the unlikely shape of a very pleasant dinner engagement in (where else but) Hull, and whilst I admit to setting off with some trepidation, a delightful companion (who was no more local than I am, and probably extremely relieved), unexpectedly pleasant surroundings and well above par food down at the marina (and even a map of shipping routes on the wall of the Ladies) resulted in a very welcome diversion, at least until it was time to return to my own room at the budget chain over the road, and attempt sleep until the morning train home.
Those who recall my last foray into the <£50 bracket will know that these are not generally my preference; the Hull outpost fortunately lacked the teeth-rattlingly noisy air blower of it's Sheffield companion but only in the sense that the air blower didn't work at all, and the resultant open-windowed night listening to the coming and goings on Ferensway did not lend the ambience it might. Having said that, it did mean that I was up bright and early to catch the 0654 and was thus home in plenty of time for coffee, toasted butteries with jam and the morning yoga class, much to the bewilderment of the fishes who have never seen me before 10am unless a jaunt is in the offing. They must have been amazed when I came back in a couple of hours, and I idly wondered whether they believed I had been away for four or five days – who knows…
Speaking of jaunts, I have managed to finally get the next few weeks organised and am pleased to announce upcoming trips to Newcastle and (finally) Oxford, which some will remember I have been supposedly visiting for the last eighteen months or so and until now have been repeatedly scuppered every time I tried to make arrangemetns; mostly down to human error (mine) but also the Great God of Unforeseen Circumstances, whose will controls us all. Anyway, I will be back in the Toon for a couple of days at the start of July, and Oxford for another couple towards the end – see the About page! Proper ads will be going up soon, but preliminary enquiries are all welcome, and I am keenly anticipating my sort-of mini breaks; any sightseeing tips for Oxford will be gratefully received, even though I never have the time to try them out.
To London this next week, and I am almost completely booked up; anybody still keen to visit at any time other than Wednesday evening, Thursday morning or Saturday late afternoon is almost certain to be disappointed – sorry! I am looking forward to my visit very much and particularly the new leg up at Euston, where I am planning tea-and-a-snoop at the newly refurbished and utterly stunning-looking Renaissance hotel at St Pancras station, a devoted restoration job so fabulous that it is possible to actually arrange a guided tour of the place here. Which, time allowing,  I might. OK, I will. I will be back in Scarborough from Monday 20th and am already taking appointments for that week – the warm weather and sunshine does tend to bring out the enthusiam in the punting populace and very welcome it is too!
Lastly, and for those who haven't noticed yet, the long awaited new pics what I took last Monday are up on the site, and as you can see above I have even catered for those who have been ribbing me for years about my lack of hairbrushing (behold! I've got one). Whilst the lovely bright natural light is with us I will be taking more, so any (sensible) requests are welcomed, and I will post more as soon as I have the opportunity. Enjoy!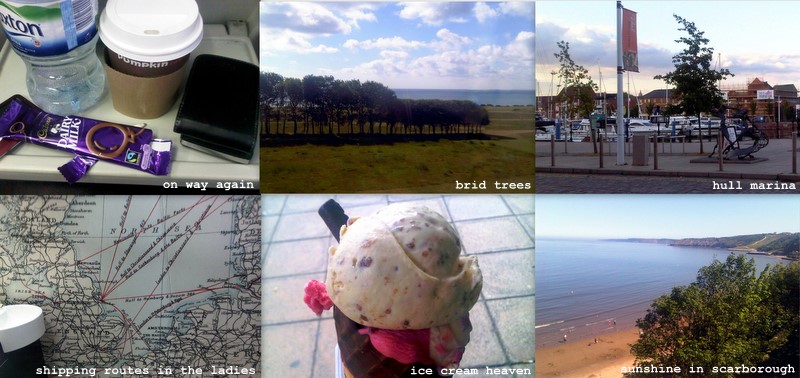 Subscribe to blog feed.
Leave a Reply