By amy ~ January 22nd, 2011 @ 2:10 am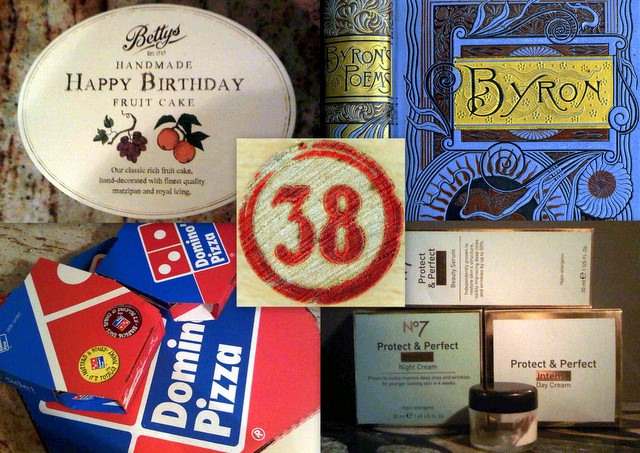 And it's that time of year again; having waited up until gone midnight in order to alter (most) online ads and profile pages (those which UK internet users actually look at taking priority – the rest can be gradually updated without anyone noticing), loyal readers can now see that Birthday has rolled around again and I now have a whole year to enjoy being thirty eight! I am particularly looking forward to this as it is apparently such an desirable age to be – some ladies have extended their stay for several years, and I keenly anticipate discovering these previously-unknown delights for myself over the coming months.
I have also learned that I share my birthday with a selection of noble luminaries including Lord Byron, Francis Bacon, John Hurt, Sir Alf Ramsey and oddly, both Nigel Benn and George Foreman (a man who boasts a retirement/comeback ratio which would rival that of even the most prolific revolving-door fans over here in prossieland) as well as it being the date Queen Victoria died in 1901. Thirty eight itself is the atomic number of strontium (like myself, soft, pale and highly reactive), the number of slots on an American roulette wheel (including the 00), and the number of games played by each Premiership team in a season, something with which Scarborough Athletic do not currently have to concern themselves and the football is all the more fun (and cheaper) for it.
It has been (as hoped) a far more gentle and peaceful week, in stark contrast to the recent hurly-burly and I yesterday spent an extremely indulgent afternoon at the local spa being polished, massaged and generally fussed over by a charming and fragrant therapist lady, who made peppermint tea, scolded me gently for not drinking enough water and dished out an organic facial and oriental head massage so relaxing that I cared not about my recently-washed hair being rendered fit to fry chips in, and very nearly fell fast asleep at two in the afternoon. My plans for today remain open-ish, although this being possibly the best time of year to visit the cinema I suspect a train ride will be in the offing; my dilemma will be the agony of choice, be it regarding entertainment or menu options although happily the two things often turn out to be interchangable. I can think of worse problems.
After my mini-lecture yesterday on dehydrated skin, I have beaten myself up a bit for eating takeaways (the online ordering facilties available nowadays making this even easier by removing the final stumbling block for anyone who detests the telephone), restocked the refrigerator with well-intentioned green and virtuous comestibles and had a slight meltdown in Boots, which led to uncharacteristic panic buying of anti-ageing products and multivitamins. I have also this week found time to read two Kindlebooks, do masses of housework and go to three gym classes in five days for the first time since before Christmas, which will hopefully go some way towards countering my birthday cake (supplied by a generous visitor) and also the last box of mince pies, which I have been gamely hanging onto for a month.
So keeping it brief for now, I will be available for appointments again on Monday and have even sorted out my voicemail – my phone will be switched off the majority of the time between now and then but please do email! London availability is becoming scarce, and anybody wishing to assure their appointment would be well advised to get in touch soon – I have other plans on the horizon (and to anyone that has found their way here from the other side of the Atlantic a little early, I promise your special page is almost finished) and details will be following shortly.
For now, it's Happy Birthday to meee! I can see why so many ladies like being thirty eight. I do too.
Subscribe to blog feed.
Leave a Reply