By amy ~ April 30th, 2017 @ 8:18 pm
Or at least it will be in a few hours, and true to form the bank holiday weather is looking unpredictable at best. Hey ho.
It's also a full week (or it will be at around half past twelve) since I got back from Edinburgh and Dead By Dawn, having spent – as I do every year – a supremely lazy and relaxing weekend ensconced happily in my favourite seat at Filmhouse with a big bag of liquorice allsorts plus a leftover Easter egg, my fit only to be worn in dark rooms comfy clothes and a borderline unreasonable amount of between-film noodles thanks to my fondness for hoarding Wagamama takeaway containers. The stand outs this year were all short films, and anybody interested should waste no time in tracking down my favourite, Pickle; not especially horror but very kind and lovely as well as making me laugh so hard I lost electrolytes. Poor Pickle.
Spending quite this much time on the East Coast main line and going from the usual quiet pottering in Scarborough to two capital cities inside a week is a novelty nowadays, despite it not being remotely unusual this time five years or so ago (when three or four different hotels in a week wasn't unknown) and whilst all went without a hiccup, I don't miss it in the slightest. That said, London immediately pre-Easter turned out to be perfect timing with a busy day Thursday allowing me the hoped-for semi skive; I was up with the lark on Good Friday for a stroll upriver to the Tate Britain and David Hockney (as well as the singularly lively light installation by Cerith Wyn Evans and a pot of tea in the members room), then later following an afternoon of entertaining back at the hotel (not least to remind myself why I was there in the first place) a wander down to the Tate Modern for the first time in months where I even got roped into some art outside – yay! TM is open until 10pm on a Friday and worth every moment to the extent that I went back on Saturday morning for some extra Kandinsky and Mark Rothko input, a spot of breakfast and a little nap on the comfy seats overlooking St Paul's in preparation for the brawl that is the Saturday lunchtime Borough Market shop.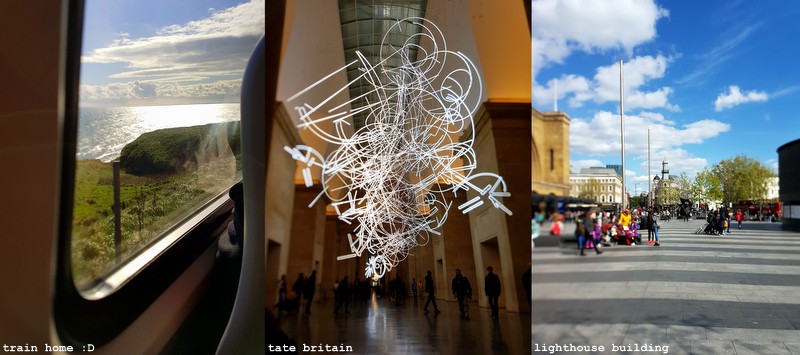 Some sunshine, sausages (plus cheese, olives and a mini bottle of white truffle oil as a treat), one very blue steak and somehow – according to the mysterious step counter on my phone – around twelve kilometres later it was hometime for an Easter weekend of R&R (and a fair bit of C, thanks to the good people at Cadbury's), a couple of days back at work before Edinburgh last weekend and now the Bank Holiday to get caught up at home after a busier than expected week which coincided with the not-terribly-welcome return of winter, complete with hailstorms and minus temperatures, to Scarborough on the exact days when I needed to be up and out of the house early. Thank God I got that boiler replaced.
Still, all seems to have settled down for now and I will be semi-available on Bank Holiday Monday itself for anybody with the manners and common sense to ring and give me reasonable warning; an hour ought to do it! The rest of the week and so far the month will continue in much the same vein and hopefully the sun will stay out at least until the half term holidays – my next London dates have yet to be fixed since the current hotel prices are nothing short of astronomical for every date I've checked, but the Summer Screen films will be announced in the coming weeks and depending on timing and selection, an August return to Covent Garden may well be on the cards as well a provisional Pimlico few days in September thanks to my Sleaford Mods ticket (and inherent laziness, since Brixton is only two stops on the Victoria line). Watch this space…
This week, a pop song! Having grown bored and cross with my usual Spotify playlists after doing them to death during the extra time spent waiting for and sitting on trains, I rummaged about in my back catalogues for some old favourites and came across a few old friends. This one came out a good fifteen years after I'd decided I was going to be Madonna when I grew up – I'd already switched from wanting to be Debbie Harry, Wonder Woman and Sally James from Tiswas, but I think it was Desperately Seeking Susan that decided it. And we've both worn pretty well, I think. In a kind light, anyway.
More soon! Time to find Desperately Seeking Susan on Netflix.
Subscribe to blog feed.
Leave a Reply